The Salesian Family of the Province of France and South Belgium (FRB) met in Lourdes from Monday 28th to Thursday 31st October 2019. A gathering that takes place (almost) every four years. The last but one was held on the occasion of the bicentenary of the birth of Don Bosco.
This year the theme was: "Educating in the digital age". Fidelity to the Salesian charism (education) and at the same time openness to the realities of this time, "what Don Bosco wanted"?
" 650 people came from all walks of life to meet, pray, sing, listen, exchange, live and recharge their batteries with Mary. Project realised! What a celebration! What a joy!" said one participant "enchanted" after this beautiful moment lived together among SDB, FMA, VDB, Salesian Cooperators, ADB/ADBS, parishioners, friends and sympathizers, teachers and students of the establishments.
Four days in the family, "maximum connection with all the participants first" invited Fr. Daniel Federspiel (provincial) in his welcoming address. Moments of meeting and sharing were lived in various activities. The choice of the place was not due to a curiosity to visit Lourdes, but to discover with "Bernadette in the Salesian Family the message of Mary". In a way, this gathering was also a "pilgrimage" to the world-famous shrine of Lourdes where many pilgrims had already come.
1st Conference: "The affective and sexual education of young people in the digital age - an overview and educational landmarks".
A first intervention that presented the reality of the world where our children and young people currently live in the "digital" or more precisely in the "social networks". This conference is presented by Mr. Jean Matos, consultant and trainer in medical ethics and educator, relational and sexual. He works with Mgr Pierre d'Ornella (Archbishop of Rennes and President of the working group of the French Bishops' Conference on Bioethics).
In an experience, also lived as a father and specialist, Mr Jean Matos, approached without taboo but without vulgarity either what is happening in the world where digital technology is taking an important place in the lives of our young people and "it (the Internet) has a significant multiplier effect by further excluding parents who are not connected". "To reach out to young people, we need to know what they are facing," he introduced. Knowing and knowing (being aware of what is happening) allows us to "take stock of adolescent sexuality practices and fashions, without being alarmist, but without being naïve either".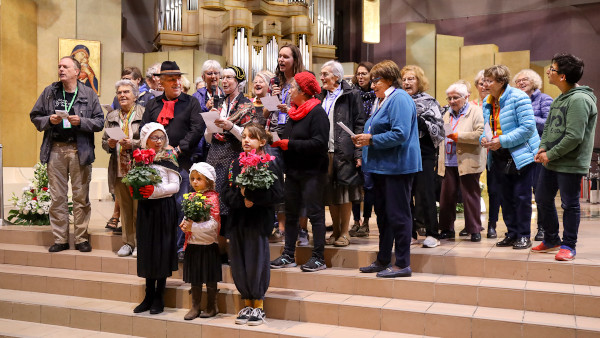 Praying and unwiding with MaryWhat should we do then? This was one of the many questions he was asked. And above all we, sons of Don Bosco, who are educators? Mr. Jean Matos' direct answer to this question is "to be wary of people who give recipes: "we have to do it like this, we have to give a smartphone to the child at such and such an age... and even worse as regards the question of sexual education".
Faced with this digital hold of which our teenagers are sometimes unaware, Mr Jean Matos, gives "benchmarks" ( he insisted that they are only benchmarks but that the first attitude must be the understanding of each educational and especially relational situation with our young people: "invite our children to reconnect with themselves", remind them that they are "body and mind". "The body is the expression of the person" is one of the values that we must remember.
On the other hand, he did not only give reference points for what we, as educators, must do with our young people, but he also addressed himself to us, "if parents want to educate their children in a healthy balance of digital consumption, what we must do first of all is to work on ourselves, to be informed, to be in our place (as parents or educators), full of common sense, to be understanding, and above all and here he strongly insisted on this last point, -the quest for happiness-". Young people are in search of happiness, so it is up to us to lead them, to walk with them.
 2nd conference: "Educating in the digital age, impossible mission ?"
A conference with Mr. Marc Vannesson, Managing Director of Vers Le Haut (a platform) "a laboratory of ideas" dedicated to young people, families and education in general.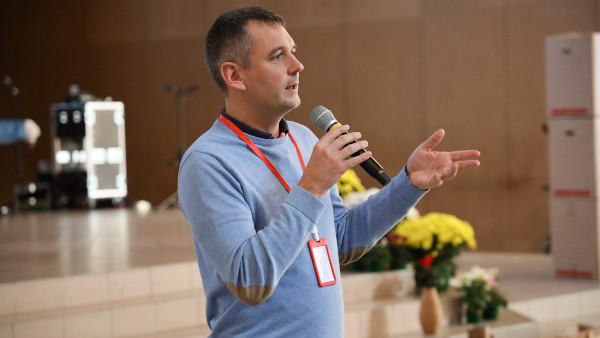 After a long analysis of the changes of our time, Marc Vannesson drew a conclusion from his speech with this conviction that he shared with us (I borrowed his wording) "I am firmly convinced that education, a social project valid for everyone and mobilizing all our fellow citizens, is the best possible response to the main problems of our country by putting it back at the heart and by being more attentive to it we can find a promising dynamic. Education is not a matter for specialists. Everyone is concerned: public decision-makers, direct actors, parents, and if we all became educators..."
And where's the digital? Marc Vannessons at the end of his speech gives "10 ways to act in our educational communities": no complexes, training to decipher, wonder, offer better, an integral education, accept external risk, learn to choose, fast (a momentary break in connections), and the tenth: exemplarity. (cf. personal note)
Testimony: Meeting with Sister Bernadette Moriau,
On February 11, 2018, the cure of Sister Bernadette Moriau was declared "inexplicable in the present state of scientific knowledge". She was then officially recognized as the 70th Miraculous of Lourdes .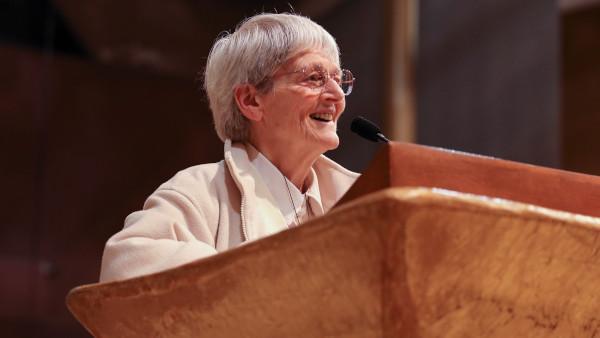 With simplicity, she told us how she lived through those moments that she had lived during these 40 years in illness and suffering where she was even almost dependent. Another story of her passage in several laboratories after the healing "I was for 10 years in silence, waiting for scientists and the Church to recognize this miracle".
At the end of her testimony, Bernadette Moriau gives a "strong" message "no life, however dented, is doomed to failure or absurdity. It is precisely in the folds and crumpled sheets of our journeys that God can work miracles".
If you want to know more about this event, here are some links you can consult:
"Ma vie est un miracle": l'expérience de soeur Bernadette Moriau guérie à Lourdes"
Sœur Bernadette Moriau, la "miraculée" de Lourdes, raconte sa guérison
Celebration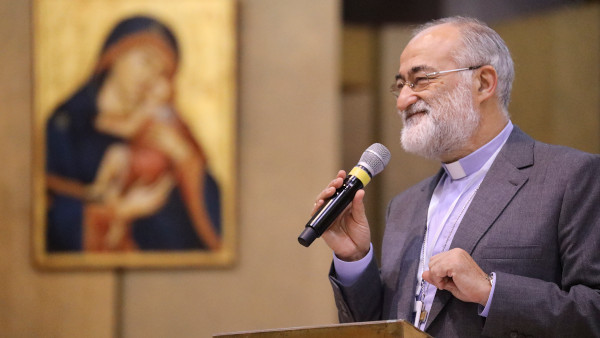 Recently created Cardinal by Pope Francis, Archbishop Cristobal Lopez Romero, SDB, Archbishop of Rabat (Morocco), came to Lourdes to meet his confreres, friends and the Salesian family. Besides the celebration of Mass at the final Mass, for about thirty minutes he presented his journey in Salesian life, in Spain, Bolivia, Morocco, and now as Archbishop of Rabat.
What struck me, he said, "is the encounter with the other". In a world on the move, of intercultural encounters, the encounter with the other forms us ourselves, while keeping our own identity", he summed up his message.